Men's Facial Cream
$25.00 CAD

60-Day Full Refund if you don't love your purchase!
Hassle-Free Returns within 60 days of purchase
Click or tap to learn more ↓
Use the moisturizing facial cream daily after cleansing. Apply a small amount over face and neck, massage gently until absorbed.
Customer Reviews
09/18/2021
Anonymous

Canada
Best cream ever
Amazing smell, hgreat product. I use it everyday
09/17/2021
Maninder A.

Canada
Awesome
This cream is really great, it smells awesome and makes my skin feel good.
09/13/2021
Beau B.

Canada
Best yet
I've tried a lot of moisturizers, like most people. The facial cream (for men) feels incredibly smooth on the skin and smells amazing. I also use the anti aging serum before applying moisturizer. The best thing about the serum is a little goes a long way (found out the hard way by pumping way too much in my hand) only a small amount covered my face and neck. I've officially found a replacement for my Keihls products.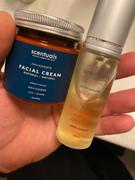 09/13/2021
Reid F.

Canada
Crème de la crème
Finally a Canadian skin care brand that uses all natural, high quality ingredients at a fair price. Scentuals is now a essential.
09/12/2021
Mike N.

Canada
Added into my everyday routine
Invigorate Facial Cream was quickly added into my everyday routine. It has done wonders for my body. I'm so excited to put it on everyday and how I receive compliments on my skin, this was something that did not happen before Invigorate. I would highly recommend this to someone who is looking to brighten up their features at an affordable cost.