Sleep Well Aromatherapy Roll-On
$15.95 CAD
Sleep Well Aromatherapy Roll-On
ZZZ's Please. A calming and soothing blend of therapeutic essential oils to relax and help you have a good night sleep.

60-Day Full Refund if you don't love your purchase!
Hassle-Free Returns within 60 days of purchase
Click or tap to learn more ↓
Solutions for:

Sleeplessness
9ml

Recyclable Glass Bottle
Roll onto temples, neck, wrists and bottom of feet before bed. Wear socks to prevent oils on sheets.
Customer Reviews
01/12/2022
Carmen D.

Canada
Great product
I use my sleep well roll on every night. Not only does it help calm me before sleeping, the smell is absolutely amazing. Highly recommend this product and will continue to purchase to help me sleep at night
12/17/2021
Debbie w.

Canada
Sleep well
Love it...helps me drift off to sleep...
11/23/2021
Anonymous

Canada
Love this stuff!
Smells wonderful! Even if it does or doesn't aid with sleep, you go to bed smelling good and it is calming.
06/22/2021
Gavin C.

Canada
Zzzzzz
I discovered "Sleep Well Aromatherapy Roll-on" by accident when it arrived in one of my wife's "Beautiful Boxes" which she receives occasionally. I find the scent irresistible and very soothing. The roll-on applicator allows me to dab a little on my wrists, neck and even under my nose before going to sleep. It gives me the perfect nights's sleep and I thoroughly recommend this and any other of the "Scentuals" products. Their follow up and customer service is second to none on the one occasion that I used it. A genuinely honest and fair company offering the best quality products with great incentive discounts to purchase. Thank you to the Scentuals Team!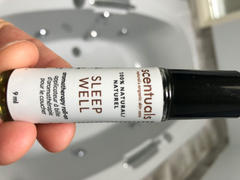 Hi Gavin, Thank you so much for your kind words and thorough review! It is so wonderful to hear you are enjoying our Sleep Well Roll-On. Your feedback means a lot to us and we thank you for your support. :) - Scentuals Team
04/01/2021
PAULINE

Canada
Amazing!
Received a gift set at Christmas and now I'm hooked, helps you sleep soundly but the best part is the next morning you feel so rested. Good stuff so I bought another set to make sure I don't run out of this fabulous blend. Thanks for bringing these products to market.