Rejuvenate Diffuser
$99.00 CAD
Enjoy the calming aromas of your favorite essential oil blends by using the right LED diffuser in one. Get our popular Scentuals Rejuvenate Diffuser today.

60-Day Full Refund if you don't love your purchase!
Hassle-Free Returns within 60 days of purchase
Click or tap to learn more ↓
The perfect LED diffuser for your space

Stylish and easy to use with modern features in the Rejuvenate Electric LED Diffuser.
Scentuals lovely and elegant Rejuvenate Ultrasonic Electric Diffuser is a stylish and useful addition to any space. It is easy to use and durable. You can definitely use it for a long, long time. This LED diffuser comes with a stunning but classic design you can use as décor in your space. It is a fantastic option for aromatherapy enthusiasts because you won't need to add too much of your favorite aromatherapy essential oil blend.



The combination of natural wood finish and the warm LED lights in this diffuser adds an inviting touch to any environment while scenting the air delicately with pure essential oils. Brighten your home with scents that move you.

Features and specifications of Scentuals LED Diffuser

Maximize the use of your essential oil blend with Scentuals Rejuvenate LED Diffuser
Aside from the stylish and classic wood design of the Scentuals Rejuvenate LED Diffuser, it is also packed with amazing features. It has a safety shut-off feature where the unit will automatically shut off when the water level is at a critical level. This aroma diffuser doesn't need too much essential oil blend to spread your favorite relaxing scent in your space. It's very efficient, effective, elegant, and economical.

Features and Specifications:

•Size: Diameter 19cm x Height 21cm
•Electronic (Needs to be plugged into a power outlet)
•Max Water Level: 600mL
•Mist Level Options: High, Low
•Runtime on the Lowest Setting: 20 hours.
•Comes with an automatic safety shut-off when low water levels are detected.
1. Position the unit on a flat and hard surface. Remove the upper cover from the base.2. Fill the tank with water using the measuring cup to the max level (600ml).3. Add 3-5 drops of essential oil for every 100ml of water.4. Place the upper cover on to the base. Make sure it closes completely.5. Insert the adapter into the base of the product.6. Plug into power source and turn on the product by pressing the mist button.DOWNLOAD MANUAL
Customer Reviews
10/26/2021
Jordan B.

Canada
Amazing!
I have owned a LOT of different diffusers and always found myself a bit disappointed with them BUT the Rejuvenate Diffuser is amazing. Its practically silent, the output is perfect, and its beautiful (basically a show piece). Scentuals got it right with this product, im loving having it and using it everyday.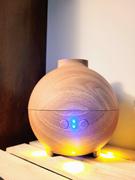 05/23/2020
Izabela d.

Canada
Best big sized diffuser!
Easy to use and fills my upper floor with beautiful scents!
12/19/2019
Josée M.

Canada
J'adore!
Très grande capacité
Love it!
The look and capacity are nicer and larger than many others I looked at. Nice and quiet too. Only one thing I found strange is that the instructions were not in the box and I can't tell when it's off (the vapor keeps coming and it doesn't go quiet) so always have to unplug it to make sure. I've tried pressing both buttons to no avail. A post about turning off would be helpful. thanks:)
Comment
J'adore ce diffuseur il est très silencieux et l'air qui en ressort scent très bon à acheter je le recommande fortement